Email: lipsofanangel2tjd@yahoo.com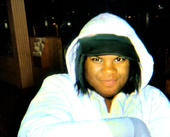 It's me and if you don't like it. I don't care. You can bite me.
Description:
Hope this is a description of what type of writing I do. Otherwise it wouldn't be good if it wasn't. But writing to me is a form for me to get out my emotions....as other people use it like that as well. It's really hard for me to describe the way I write, because I really don't know myself. But I've receive a few rewards from Poetry.com and have been offered to have two of my poems to be enter in two different books. I don't really remember the names of them.



If you want to know anything about me just ask. Don't be afraid. I'm a nice person with a deep heart.

I try not to judge anyone on first impression so I hope any of you don't do that to me. It's just not right to do that. I give people a chance to show their personality and how they are like with others before I judge them. It's working so far....at least I think it is.....


Well if you would like to know anything else about me, don't hesitate to ask. I am more than happy to answer any and all of your questions.

| | | | |
| --- | --- | --- | --- |
| Age: 22 | Year of birth: 1987 | Month of birth: 3 | Day of birth: 4 |
Working/study place:
Home and Library
Place of living:
Jacksonville, Fl ( Jobcorp)
Home-page URL: Pain-N-Poems@hand