I first really got into books when I was in sixth grade. I had heard about the wonderful "Harry Potter" books, but at that time I thought, "What's the big deal? I don't get it." Then I actually read the first book, and I have been hooked since, not only on Harry Potter, but also on other books, other genres, other authors. I am proud to say that I consider myself a bookworm. I would get into so much trouble sometimes because I had started reading a book instead of doing my work in class, but I have to say I'm doing better now. "Hi, my name is Lyssa, and I'm a bookworm!" The room murmurs, "Hi Lyssa." lol I'm just kidding. I would never wish to cure my "addiction".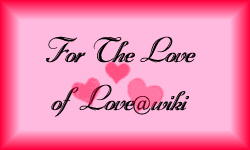 I've been working on writing short stories and maybe a book for a while now, but it's still in the brainstorming stages. A short story is actually the least forgiving of writings, so it's been going very slowly. In the meantime, I try to read a lot. I'm very worried, though. I love to write, and I do get good ideas every once in a while, but one of my biggest problems is if my idea is even remotely similar to someone else's I won't use it, even if I don't plan to use it in the same way.
Some of my favorite authors include:
Christopher Paolini, Mercedes Lackey, Tamora Pierce, Lynsay Sands, Garth Nix, Cornelia Funke, Robin Mckinley, Patricia C. Wrede, Diana Wynne Jones, Shirley Rousseau Murphy, Kate Constable, Patricia malone, Tanith Lee, Sheryl Jordan, Kristen Britain, Carola Dunn, T. A. Barron, Jo Beverley, Lynne Reid BAnks, Meredith Ann Pierce, J. K. Rowling, Philip Pullman, Vivian Vande Velde, Nancy Werlin, Carole Wilkinson, Gerald Morris, Celia Rees, Jacqueline Carey, Jane Austen, Noriko Ogiwara, Chris Wooding, Josepha Sherman, Susan Cooper, Gail Carson Levine, Lois Lowry, Vera Chapman, Neil Gaiman, Stephenie Meyer
Also please note: If I suddenly stop logging on to writersco, then it means my school has gone psycho and has blocked writersco just like it already blocked elftown. *sigh* I miss elftown... anyway, bye for now!