UCC Winners
|
UCC Submissions
About Unusual Creatures
The aim of these contests are to help members reach deep down to their creativity banks and come up with a totally strange, bizarre and very unusual creature and then find a way to place them in a strange or unusual scene or predicament. Entries will be judged on originality, detail to the set theme or task, and style of writing.
Maybe you'd even like to take a stab on drawing your unusual creature too! Though no extra points will be given, but it would certainly give us all something more to look at.
Unusual Creatures Contest Line-up
Stage 1: Creature Creation
- Closed!
Creation of your unusual creature!
This part of the contest is closed, but remember if you want to take part in the later stages you still have to create an unusual creature!
Stage 2: Unusual Territory
- Closed!
UCC Unusual Territory
You have your creature now place it in a proposed unusual scene; can you manage your creature in someone else's territory?
Stage 3: A weird Predicament
- OPEN!
UCC A weird Predicament
Phew! You managed to get through the unusual territory, but now something bizarre is about to happen, how will it affect your unusual creature?
Stage 4: The Showdown!
The showdown, you have got this far, but can you handle the final showdown of the UCC.
Entry Requirements for all parts of the contest
» Prose or Poetry is accepted (you do not have to stick to one style for all the UCC stages)
Prose: 1500 words max
Poetry: 40 lines max
» Original 'make-belief' creature (for first part)
» Use your original 'make-belief' creature in all follow up parts of UC.
Rules
» It MUST be an original piece by you.
» No prejudices against any other please.
» Create your entry on a separate wiki page.
Prize
As with all contests I host, I will provide a personal crit of your work covering plot, characters, grammar, and writing style. You take the time to enter my contest, so I shall take the time to offer opinions on your writing.
For winners For Participants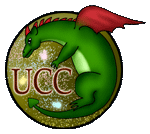 Return to:
The WritersCo Contest Section
Contest hosted by: [Font]
Credit given to: [pixie_shimmer]
For making my badge design reality ;)
and to: [Sunrose]
For helping with making my images background invisible ;)