banner by [irulan]
I thought this contest was best described by the words of our original founder, [
RiverStar
]:
Creating this page was like this crazy idea I had while trying to sleep. I absolutely love writing, but often have a hard time deciding what to write. So this contest provides you with the inspiration to begin...
---
The wonderful art of words! A new round begins every month and the entries are reviewed by a team of qualified judges. All you have to do is put your story on a wiki page and message [
Lady Edana-Arianrhod Ros
] with the link. Please include a title or the "what if..." prompt as well as your name in the wiki name. If you are new to wiki's and need some help just let a judge know and they can help you.
---
We are accepting poems as well. However the poem must still fit in the lines of a story. So it must include basic story elements such as a main character and a plot.
---
Idea Starter:
What if everyone looked alike?
Starts:
Oct 1st
Deadline:
Oct 31st
Entries:
What2
---
Winners will recieve this badge: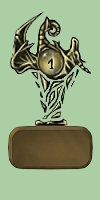 by LittleSister of Elftown.
---
Judges and Mods:
[
Lady Edana-Arianrhod Ros
]
[
iippo
]
[
Nell
]
Judges' opinions of the work can be seen here:
What if...Crit
---
Who do you think should win:
What if...Voting
---
You can read previous winners and entries:
What if...Winners
---
Give us ideas for more contests:
What if...Ideas
---
I hope you will enjoy this contest, and I can't wait to see what you create!