Alittle about me!
I'm nineteen years old. After a short stint of dreams of educating young children in the realm of language arts, I decided that that is just not for me. So as of the coming September I will be double majoring in Theoretical Theatre and Arts Administation.
I am Canadian and very proud of it. I was born in Regina, Saskatechwan and now live in Ottawa, Ontario.
I love performance arts, despite the fact that I have no skill in it. Some of my favourite groups are Canadian. I love the contemporary dance troupes Kaeja d'Dance and Les Ballets Jazz de Montreal. I'm also a big fan of the Old Trout Puppet Workshop.
I'm a movie buff too. I love going to see movies or just staying home watching them. On weekends at home, if I'm not reading or writing, I'm lying on the couch watching movies. My current favourite movie would have to be Eternal Sunshine of the Spotless Mind.
I write as a hobby and read as a passion.

WritersCo Involvement
I'm basically [
Font
]'s executive assistant. As Deputy-Boss of the site, I make it one of my goals to keepthis site ticking and bouncing. This site is a great place for writers to develop their talents. While I believe that you are either a natural storyteller or you aren't, and you can't be taught the talent part, you can be taught to develop your skills, you can be taught tricks of the trade, you can be taught to be a writer, but you have to be a storyteller first.
I am also a Mod here, which means I do enforce the rules. I will apologize now if you are someone who thinks rules are for bending and I am the one who catches you, but I am just doing my job.


This means I'm participating in the Novel Writing Workshop...in fact I'm running it.

Current Activites
Nanowrimo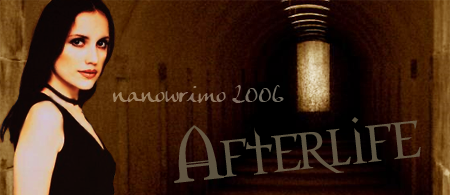 And hey! Welcome to the world of my twisted imagination! Ciao!