Page name:
Historically Based
[Logged in view]
[RSS]
2007-02-20 00:55:36
| | | |
| --- | --- | --- |
| # of watchers: 9 | Fans: 0 | D20: 12 |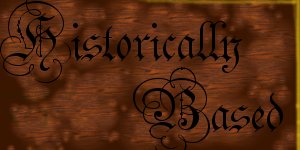 A Flipside monthly contest.
Hosted by [Calliope]

This is a monthly contest that will test your research skills as well as your ability to incorporate accurate information into a fictional story of your own imagining. Each month a different historical event (eg. Battle of Waterloo, War of 1812, etc.) will be used as a theme. You're objective is to research the event, not in great, great detail, and write a short story with fictional main character(s) that are based in the event. You don't have to encompass the whole event since many will have lasted months if not years, just as long as the character(s) are located in a situation somewhere related to the event. If it is a battle, the character doesn't have to be a soldier, they could be a family member affected by their relative being in the battle. Just because this is a contest to help broaden your knowledge and research prowess doesn't mean you have to forsake your imagination :P

Historical details to focus on:
- Clothing.
- Speech patterns.
- Manners.
- Technology.
- Climate.
- Influential people. (Possible idols)
- Minorities, majorities and common view points.
- Education.
- Etc.

Rules:
1. It must be your own original work and composed for this contest alone, not something you wrote previously. If you wish to take a piece you did write before, research the theme a bit and then alter it accordingly that will be accepted.
2. Submissions must be at least 500 words and at most 1500 words. I know this limit may be too small but I will be judging this by myself and don't have time to read half a novel. The limit may change eventually depending on the number of judges.
If you wish to be a judge feel free to message [Calliope]
3. While some themes may require violence or sexuality, I expect both to be limited. Coarse language isn't necessary and should be used as little as possible. If the piece is extremely graphic please place a warning next to the link.
4.
Follow the Theme!
5. Have fun! Just because you're limited to an era and setting doesn't mean you don't have other liberties. It's all about your interpretation
.

6. Submit entries in the following format:

[

Username

] – Link – Number of words.



Theme:
Battle of Culloden
Background Info: Fought during the second Jacobite uprising in Culloden Field, Scotland. Was the final stand of Bonny Prince Charlie.



Deadline:

This theme will end on October 1, 2006.



Badges:
I'll get around to them eventually…



Contestants:

1. [Child of God]
2. [Ravendust]
3. [lady Annumundowen] -





Entries:

1. 646.A Final Stand - 1,166
2.
3.



Go or Return to:
- Flipside
- Flipside Contest Section
- [Calliope]'s house.
---
| | |
| --- | --- |
| | Show these comments on your site |