This is the most recent picture of me, taken on 8/04/2011.
Blonde hair, whee. =)
Description:

Welcome to my house. My name is Stephen. I write. I also read. Send me a story; I'll read it.

- Confused? Look at the
Help
index.
- Would you like to see the Writersco
Rules
?
- What is this place?
WritersCo
.
- Who runs this site? The
Staff
.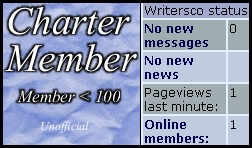 I'm number 38. W00t.
Image made by [Mister Saint]. Worship him.
*Dividers Made by [Kachi] from Writersco Graphics.*