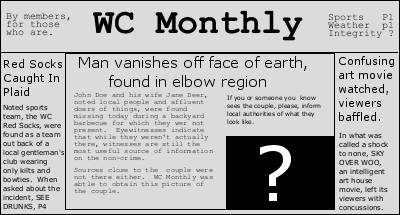 The only e-zine publication by and for the members of WritersCo. Every month a new edition of WritersCo Monthly will run the gauntlet to bring you brand new articles, word puzzles, literary tips, and a myriad of features!
Contact WCMonthly
Freelance WC Journalists.

Table of Contents
[
#1
] : October Features and Opening Message
[
#2
] : Monthlies and Articles
[
#3
] : Reviews
[
#4
] : Featured Contest
[
#5
] : Challenges

[#top]
October Features and Opening Message
The re-inaugural issue of WC Monthly is here! Thanks go to all of those who have helped in some way with the project, which has turned out quite well despite the haste put into it! Getting enough material for a competent e-zine isn't easy anyway, but this month's rush and build-it-from-the-ground necessity made it all the more groan-inducing. But here it is, and we all hope you enjoy what we have put together for you, the dedicated members of WritersCo! In keeping with a more laid back, humorous vibe, this month's feature is pure satire, pure parody, and pure... something. Enjoy!
--The Staff of WC Monthly
For the month of October, WC Monthly will feature a series of slightly skewed interviews with the members of WritersCo. Things are never quite what they seem, though.
Interviews: Font
Interviews: Veltzeh

[#top]
Articles and Monthlies
Ask Mister Saint
- Q&A with [
Mister Saint
].
Quote of the Month
- this month's quote by [
iippo
].
Speak: On Dialogue
- article by [
La Divina
].

[#top]
Reviews
Review: The Covenant
- "3 out of 10" By [
Mister Saint
]
Babyville: book review
By [
La Divina
]

[#top]
Featured Contest
Halloween Horrors
- a Halloween contest with a nice break from the grind of trick or treat. Utilizing the worldwide theme of
urban legends
, this contest requires writers to adapt time-tested concepts to their own needs for thrills that hit closer to home than Transylvanian vampires or tall guys with bolts in their necks. How many of us knew Bloody Mary was more than a mixed drink? Hosted by [
Calliope
], also a
Flipside
contest!

[#top]
Excercises, Challenges, and Puzzles
October in the Air
- Halloween-them
ed writing challenge
Issued by [La Divina]



WCM October 06
Thank you for reading, and helping to make WC Monthly happen! We are always looking for material, so do not be afraid to contact us!
---
| | |
| --- | --- |
| | Show these comments on your site |